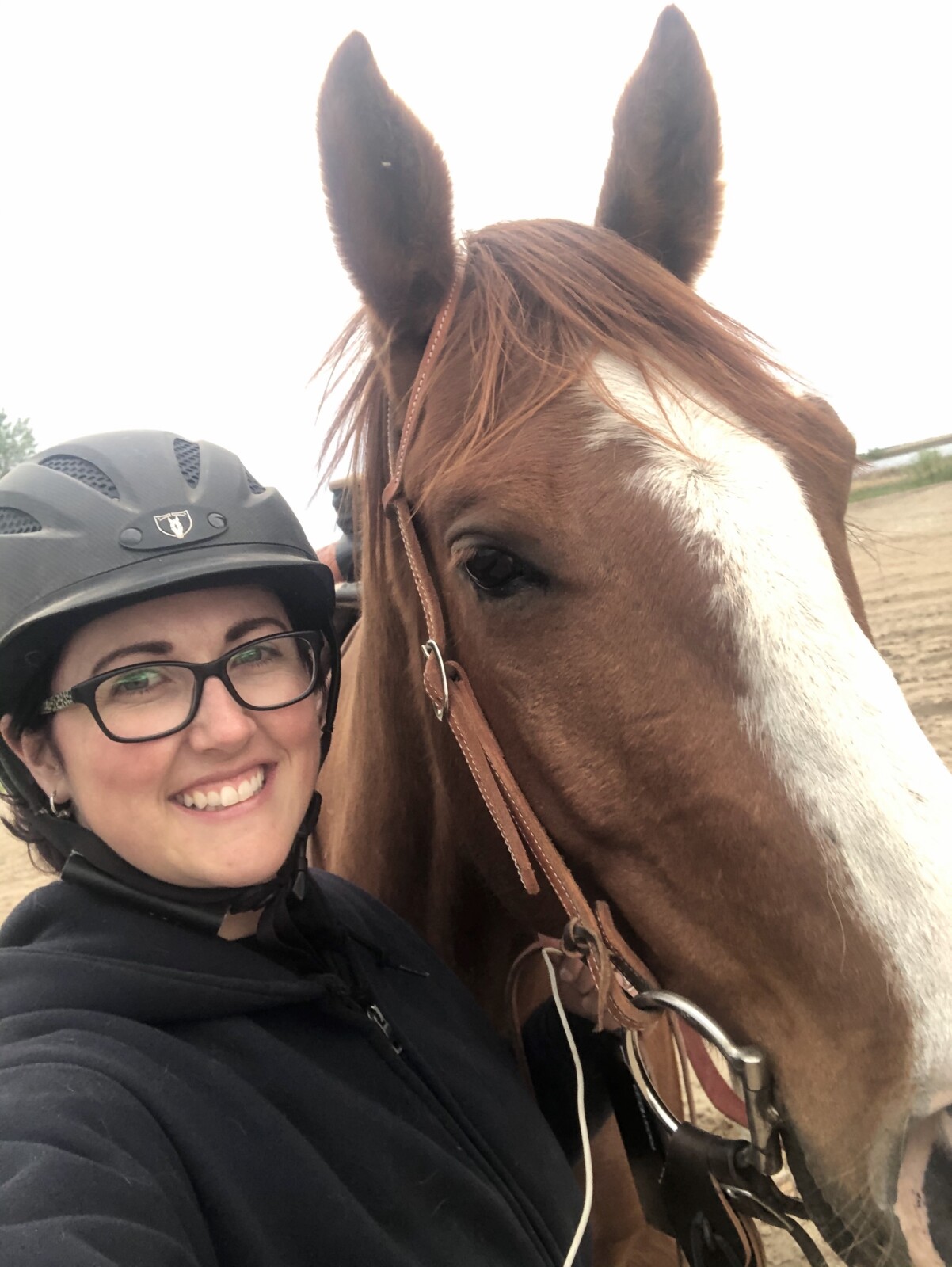 I hadn't ridden Ace since the end of April. I had to put down my barrel horse May 1st, then seeding started shortly after, and we worked tirelessly until completion on May 30th. During this time I was able to work through my grief of losing my other horse, and started to feel the call to go back out and connect with my other horses again.
Things finally worked out on this chilly evening to head out. We had received some wonderful rain; the air was crisp, clean, and fresh. I love that smell. I didn't have a set plan for what I hoped to accomplish. First thing first, would the horses even let me come near them? Earlier that day I had gone out to check on them after a wind storm and they were very spunky, not interested in pets or attention of any sort. I grabbed my halter, swung it over my shoulder, and headed out in rubber boots through the wet grass. Ace saw me a long way off, his big bright blaze rising into the air as a welcome greeting. I walked half way out, sat on a rock, and took some deep breaths. I focused on heart breathing, being calm, relaxed. Only a minute or two later Ace walked to meet me where I sat where we exchanged breaths.
Normally, I had been making it a habit this spring to lunge before riding; however, this time I felt drawn to use the round pen. Supplements eaten, brushed, saddled, and bridle in hand, we went to the round pen. I took his halter off once I had closed the gate, and stepped away. I could see he was already very in tune with me. His head, ears, and entire body were with me. I was very pleased to see how calm, focused and confident he was even though the other horses were on the far side of the pasture. "Time to take the next step," I thought. Once out in the arena, sitting centered in the saddle, Ace was impatient to be off. "Alright, you're turn to lead then, Ace."
Ace was adamant to head out of the arena. We hadn't been on any trail rides yet this year, and I was fairly certain he just wanted to get closer to the herd. One thing I've learned is to work where the horse wants to be; you'll have much easier success. So off we went, through the intimidating barnyard, and into the field which bordered the horse pasture. Once we got to the end of the pasture fence line, Ace became very showy about his displeasure by tossing his head any time I put pressure on the reins. I figured he just didn't want to continue walking out farther away from the herd so I turned him back. Work where they want to be, remember? Ace's head tossing was becoming a nuisance at this point, and I was trying to pinpoint the cause. We were walking towards the horses and he was still obviously annoyed. He wanted to break into a trot, which I was stopping by bending to a stop then waiting for relaxation while flexing. In the past this worked like a charm. Not this time. "OK fine then, have it your way Ace. I'll just leave you alone and let's see what you want to do." To my surprise he headed off perpendicular away from the horses, right out to the center of the field. Again, he tried to break into a trot several times. Each time I tried to encourage relaxation through bending to a stop and waiting for the soft flexion. I could see I wasn't helping him. I could sense he wanted to have fun. I was realizing he wanted to run. Once this clicked, my anxiety started to rise. Ace has a history of bucking in the past. He was also showing plenty of expression by throwing his head around. The last thing I wanted was a runaway, or a bucking runaway. "Ace I'm not ready yet!" I told him. I wanted to think it would all be alright, but my heart rate wasn't quite convincing me that it would be. I started really going internal, to process my fear. As I tried to come up with every reason to not go for a lope, Ace kept asking, rather persistently.
"Just TRUST me!" I could almost hear the words coming out of Ace's heart.
Big breath -- I started off by letting him really extend his trot. He wanted more. He broke into a lope on his own, and I immediately tried to bring him back down. He shook his head in frustration. Back to long trotting, trying to decide what I want to do. "Don't make me regret this. OK -- Lets go." I barely had formed the thought in my mind when Ace broke into a lope. I kept trying to create contact with the bit to feel more secure; Ace was getting annoyed and threw in a crow-hop. "Seriously dude? I'm trying!"
"TRUST me!" was what he kept countering with. Trust him, get off his face, and believe we are a team.
I have never ridden Ace when he actually wanted to go out into the field alone, and at the same time, to also want to blow off some steam. This was huge on so many levels. His confidence in himself, and in us as a team, has grown. Did we have a picture perfect lope through the field, my arms in the air like I'm about to fly off? No. Did he offer to crow-hop a few more times? Yep. Everytime my anxiety started to take over and I got on his face he got saucy. But I kept my bearings. I kept breathing, and I rode him through it. I let him express his energy in a forward motion. I kept showing him that it was OK to lope, and it was also OK to accept some direction from me. Now, I could have gotten after him and made him lope circles until all that sass was gone. But I didn't want to. He was communicating with me the best way he could. And I was trying to listen. I could tell he didn't plan to make me eat dirt; he wasn't carrying that kind of energy. I did make sure, however, that we did end our ride after a pleasant, relaxed lope, with no extra sass involved. I do have to get over my fear that any time he shows attitude it will result in a bronc session. I have to "ride the horse that I have today," as Warwick Schiller would say.
Now here comes the really cool bit. I had to encourage him to head back to the barnyard so we could get back home. He wanted to head back out into the field for more fun. Normally, any horse is chomping at the bit to get back to be unsaddled. Not Ace this time. As much as I was tempted to stay out, I also wasn't about to tempt fate. I wanted to end on a good note. Coming back through the barnyard he was much more relaxed than when we had walked through previously. He went up to a tractor to smell and touch of his own accord, and again with the grain vac; both objects he was sidestepping when we walked past the first time. A large tractor tire also didn't cause any concern like it had only an hour ago, and the same for a couple pallets stacked alongside the shed. It was as if he felt that he could brave anything, and finally trust me; because I had trusted him. He felt like we were a team, and I wasn't going to put him in harms way.
It was such an odd ride, but an amazing one. So many new things happened between us. I'm so thankful for all that I'm learning in regards to positive reinforcement, learning to tune in to what my horse is trying to show me, and becoming more familiar with my own emotions. If I can't recognize my own fears, I won't be able to address them, in order to learn techniques to help me understand, process and let go of thoughts and feelings that were just holding me back.
If you'd like to join my free community, click
HERE
.