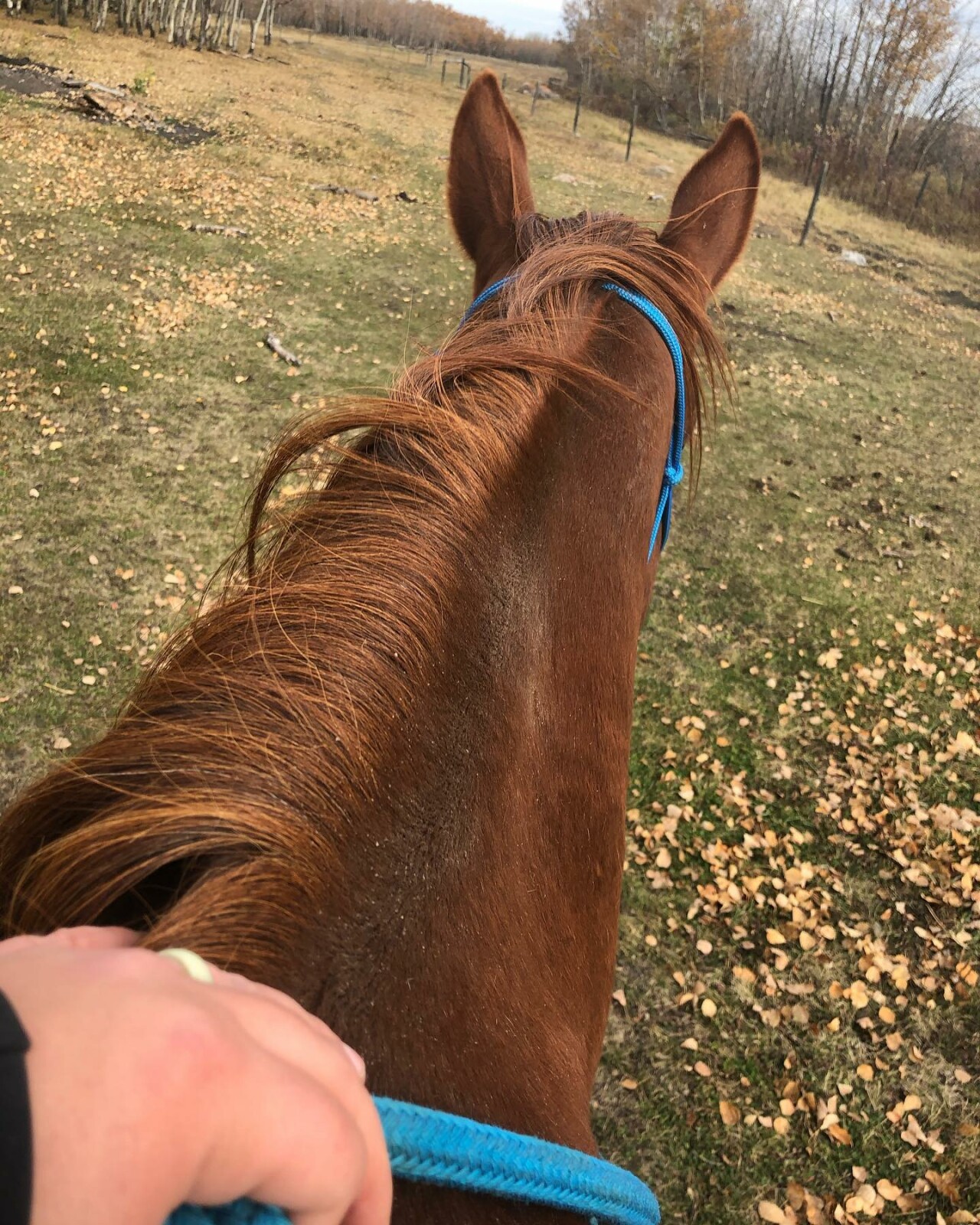 This past weekend I was blessed to ride both Saturday and Sunday. Saturday's ride ended up being a delightful arena ride where we worked on a variety of things.
On Sunday, I didn't feel the desire to do schooling, and it was very windy, so I didn't exactly want to go for a trail ride either. I felt drawn to do connection work. As I walked out to catch Ace in the back pasture, I suddenly knew what I wanted to do. Get on Ace bareback, with his halter, in the field amongst the other horses. Riding my seasoned horse in from the back pasture isn't a new thing for me. Riding Ace in, however, is. I tried to get on him twice in the past in the field, but he felt too anxious each time. I didn't mind 'giving up' those times in the past because, honestly, I was pretty scared! Getting on a younger horse, the bottom of the pecking order, I was having visions of a horse lunge to bite him, kick, or they all decide to gallop in ahead of us had me more than happy just to lead Ace in. But Sunday was different. I felt different.
See, over the past few weeks, I've been working on this guide to help people learn and start using conscious language as it applies to our horses and us. If you've ever created something, you'll know that the creator/teacher always ends up learning the most during the process by preparing, researching, and writing out their content. I want to share something that I wrote in my guide, Harness The Power of Speech.
"I think God has a plan for all of us. We have all been given beautiful gifts, and we are meant to share them with the world. We are to shine our light. When we stop listening to our inner voice, or rather God's voice, when we hide our light, that is when we start to find ourselves in times of chaos or dissatisfaction. Maybe you don't feel worthy of asking for more, or perhaps you don't feel worthy of your gift, to begin with.
Some people have the gift of teaching, working on cars, building houses, creating jewelry, and then there are those gifted with the love of horses. For us who are passionate about horses, our gifts will all look different. Some people will be able to teach clinics, some will jump, rope, do liberty, trail ride, and then some people use will horses to feel connected to God or the universe. I think all of us horse lovers are designed for something extraordinary, just like every other human alive. It is up to us to accept and develop the gift that has been bestowed to us.
I grew up with horses my entire life; I always had a deep connection with them, and they helped me through some challenging times. Horses were, and still are, my safe place. However, what I've been learning now is that we have a duty to these animals as well. In the past, I was judgmental, critical, short-tempered, and expected my horses to "fix" me emotionally.
Now I believe I have a higher calling, and so do you. We owe it to our horses to better ourselves on our own. When we start healing from our pasts and being emotionally available to our horses, we are open to seeing their hurts, fears and struggles. We can then open our eyes and begin to learn their language or communication method, and we can start helping them with their emotions.
In my heart, I knew I was missing too many pieces of the puzzle to create a deeper connection. I am so fortunate that I listened when God, or my inner knowing, started pushing me towards a new adventure. I could have let my fear take over and give up. But I accepted the challenge that has led me into the most incredible journey! I encourage you to be brave. You have a brilliant light to shine to the world; don't hold back, read on!
So, what if you could overcome your fear, anxiety, uncertainty, and self-doubt by merely speaking and thinking as if you were calm, capable, confident, and relaxed..." Leanne Nelson, Harness The Power Of Speech.
The point I want to make is that I could have stayed in my place of fear about getting on and riding Ace in from the field. I could have let my imagination run away with me and think of the endless scenarios of how I could get hurt, or even have Ace get hurt. I could have let my inner itty-bitty-shitty-committee, as Jane Pike calls it (excuse the cuss word, but it just flows so well, doesn't it?) make me feel unworthy, not good enough, not capable, and in general, keep myself small.
Luckily, I know I am destined for more than smallness. I might not know exactly where I will end up in my journey with Ace, but what I do know is that I am called to be brave, confident, calm, enthusiastic, curious, empathetic, patient, a leader, and always grow. I know this is what I'm supposed to do; accept these challenges and find my way through them, and then share with others.
So, once I got out to the horses, Ace greeted me with his usual friendly lovey-eyed self. I looked around to see the best thing to use to step up on to try and get on. I decided on using the back of an old pickup that amongst the row of automobile gravesites. This was the first time I was using something other than a fence to try and get on. Ace knows how to side pass over to pick me up, so he already knows the hard part. We had to work on his confidence at side passing towards the truck, then staying there while he got a nice scratch. It didn't take long, and I was able to get on. The other horses were close by and napping, so we started walking around the pasture a little. Only a few minutes passed, and I knew we could make the ride back in from the field to the tack shed.
It went so well! The other horses stayed in the pasture, and we plodded our way down the path. While Ace ate his feed, he became stressed that he was, in fact, alone. I decided to do some groundwork to get his focus back on him and me, and the present moment. I was already over the moon with how well everything went and was going to end things on a happy note and let him go when I had the crazy idea to ride him back out to the herd to catch another horse so that I could take my daughters for a ride. I don't think I have ridden a horse out to the herd since I was a young, fearless kid. The fear of a horse just bolting to get back to the pasture was pretty high on my mind previous to this. But on that day, I accepted the calling. Yet again, I was not disappointed! Relaxed, loose rein, let downs the whole ride back. Ace even spooked once at some kittens zooming around the corner of the barn, and besides giving a surprising, startling jump, he was calm and relaxed moments after.
I want to encourage you to listen to that inner knowing. That God-in-you knowing. That feeling you have when you know you're being called to do something. Even if it might seem irrelevant like riding a horse in from the pasture, accepting that call is empowering. God has great plans for you and your horse.
Now, suppose you find yourself often sidestepping, ignoring, or limiting yourself because of fear, anxiety, or not feeling worthy. In that case, I invite you to get my guide,
Harness The Power Of Speech
, to help you find your inner power, inner voice, and a new way to think about life.