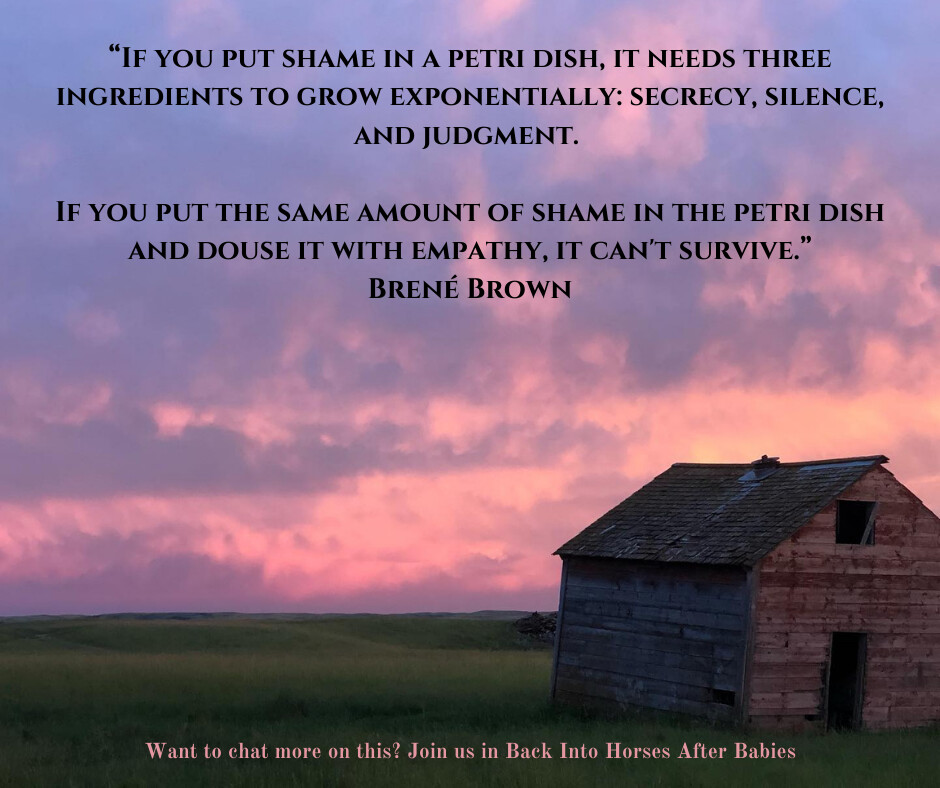 If I asked you to describe a 'mom,' what comes to mind? For me, Brene Brown explains it perfectly: mom's do everything, do it perfectly, and make it look easy while doing it.
What about being a horsewoman? According to western movies, they make us tough, resilient, stubborn, firm and can do any job a man can do, but better.
Those are a lot of expectations. If you are like me, you are both a horsewoman and a mom. The weight of those expectations is exhausting.
What's worse is we don't talk about these extreme expectations. These standards are unspoken by society, but they are implied. It's not like after your first baby, a nurse comes in and says, "okay, now here's what you need to do to be a good mom." You don't get a piece of paper when you become passionate about horses stating the requirements needed for you to be considered a good horsewoman.
What's sad about these unspoken standards is that we feel like failures when we inevitably can't do it all. Those thoughts and feelings like we are failing, unworthy, less than, not enough, who am I to do that? They haunt all of us. These feelings are shame. We hide them away in hopes no one will ever see them; because if they did, we would indeed be judge and found unworthy.
Before we go further, let's make sure we are all on the same page. Shame is the fear of disconnection, fear of being judged as unworthy and not good enough; to be cast out. Shame is "I feel awful because I am a bad person." Guilt is "I feel awful because I did something bad."
As a mother of two amazing young daughters, living on a beautiful farm, with an outdoor arena as a front yard, who was I to complain? I should be the happiest person alive, shouldn't I? But I missed myself before having children. I felt that I was a horrible mom for having these thoughts; I felt ashamed. I felt unworthy around my horses because my connection with them was almost nonexistent. I was angry, resentful, frustrated, and I felt alone.
Luckily, thanks to my horse, I started going down a rabbit trail, trying to fix our connection. Instead, I found how much healing I needed. The shame I was carrying was eating away at my passion for life. I started to see the hope that I could indeed be happy and fulfilled as both a mother, wife and horsewoman.
What I wish I had in those moments was someone to talk to. Someone I felt safe enough to share my thoughts and struggles without being disconnected or judged. I wish I had someone to help me realize that what I was dealing with was, in fact, shame and that there was a way through it. If you recognized a part of yourself as being stuck in shame, I've created a free booklet to help you start unpacking your thoughts to work towards finding your freedom from shame! If you'd like your copy sent directly to your inbox, you can get that here:
Finding Your Freedom From Shame
Brene Brown is famous for her talks on shame; if you haven't read or listened to her books or lectures on youtube, you need to. Almost everything I've learned regarding shame has been from her, so she gets all the core credits here. But what I've come to realize is in my darkest moments, it was shame that kept me there. Don't let it keep you stuck.
You are enough! You are worth it!