I can already see the look on your face as you read the title. A look of: "how does that make any sense," as you furrow your brow and maybe tilt your head to the side.. I didn't even really understand what I was learning until the result presented itself. And that was a calmer horse.
First off, these ideas are not my own. I have been following several trainers, and although they maybe didn't say it flat out as I did, they laid out the work so I would come to that conclusion on my own. So here I am, spilling the beans. Why? Because I think more people should know about this, and it could help a lot of horses and their humans find their calm faster. Let's get to it.
At a recent Jonathan Field clinic, I participated in it with my horse, Ace. Early on, Jonathan kept talking about the importance of having a plan. I had heard this before, but with different wording with similar meaning. Or at least that's how I was interpreting it. However, it started to click when we were doing the groundwork. I had to direct Ace in a pattern while he was about 10 feet from me going around in a circle. Pylons were out, and I had to use my body and intention to get him to go on the pylons' far or near side. Talk about focus! I had to be 100% attentive to what I wanted Ace to do and where I wanted him to go. The second I became wishy-washy in my mind, Ace always went off the path.
It wasn't long into this when I could see Ace mellow out. He was stretching out, lowering his head, flowing forward in a nice even trot. He was calm. It was like a lightbulb moment for me. He was relaxed because I was focused. He was calm because I had a plan. I knew where I wanted him to go, so he had nothing to start creating anxiety. He didn't have to be concerned if I knew where I was going or whether I was sure that corner had a monster in it. Ace was able to relax when he knew I was right there in the moment, taking care of him.
I think another large factor in this was Ace wasn't going to get into trouble for trying to go somewhere he thought I wanted him to go when I had no idea what I wanted, but I just decided to nag at him anyways. In that circle, on our path, he knew if he responded to my slight asks and intention, I would let him do his thing. Go around the circle. I wasn't nitpicking every little thing. He had a job: trot the circle. I had a job: pick the path of the circle. As a result, he saw me as a confident leader.
Now I want to expand on something a little further here. As important as it is to have a plan, I also want to remind you that we still need to be flexible. Warwick Schiller has taught me to listen to my horse. I might want to work on a specific drill pattern, but my horse might tell me that we should work on something else. For example, let's say my horse is suddenly not moving his shoulders nicely. If I persistently push my plan forward, I will only butt heads with him because he needs his stiff shoulders worked on. The same applies if he's a bit spooky at things. If he spooks a little at the halter, the gate, the saddle pad, the saddle, the fence, and the arena gate, how can I be shocked if he blows up and bolts at the next little thing? His worry cup got full, and I was too short-sighted to address the initial concern before moving on to my plan.
Learning these two things and finally connecting them has made me very excited! Ace and I have a very long journey ahead of us. We will be partners for life. I am in no rush for our future, as we are in your moment together right now. I am so thankful he has the patience to forgive me when I fail continuously and show such satisfaction when we have a significant "ah-ha" moment together.
To hear more, Watch This!
Until next time, 💜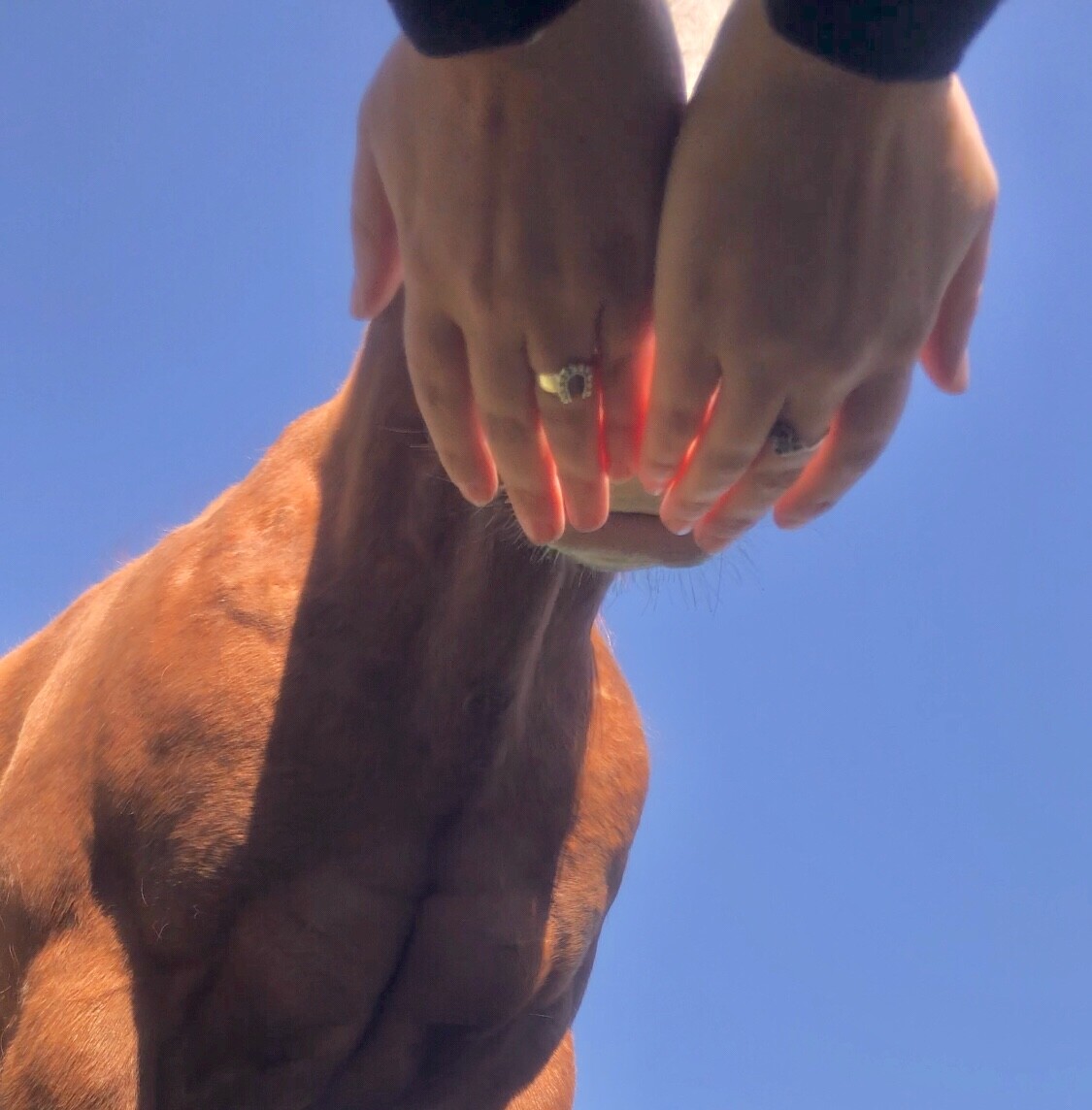 I have a confession to make.
I haven't caught, or ridden any of my horses since Sonny died - May 1st.
Recently, I've been finding myself using every excuse to not go out to the pasture. This morning I decided that I had to face my emotions — whatever they might be. I grabbed three oils that called my name, and when I had a moment from my kids, walked out to the herd.
I didn't have a plan, or agenda. I just knew I had to open up my heart and feel whatever had to be felt, so I could start moving forward again. As I walked out, the weight of the oils in my sweater pocket pulled heavily on my heart. The closer I got to the horses, the more emotions I was feeling; but they were all jumbled up in a confusing knot. I sat down on a boulder with the horses at a distance. I took a deep breath, trying to prepare my heart and mind for what I knew was inevitable.
I pulled out the first oil I knew that I needed. Forgiveness. Just holding the bottle in my hand was bringing tears to my eyes. I opened the lid, and a few drops fell onto my palm making tiny puddles. Rubbing my hands together, I cupped them around my mouth and nose; closing my eyes I took several deep breaths. I started to have a conversation with my inner self.
"What are you scared of?"
"Failing."
"What do you mean? Failing in what way?"
"Of failing my other horses. Of missing health problems. Of not being a strong enough leader. Of not having Sonny to fall back on as my confidence booster."
"OK, those are all legit concerns. But I know you. I know you always do your best in any situation. It's time to let the fear go. It's time to let the guilt go. It's time to forgive yourself."
I'm crying by this point. Feeling the flood of emotions listening to this inner dialog. I acknowledge my fears, guilt, and regret. I mentally place them inside a bubble, and I let the wind carry it away. I start to feel calmer, I focus my breathing on my heart. When I exhale I visualize my breath entering Ace's heart. When I inhale, I visualize his breath entering my heart. I'm slowly moving into a place of calm; then I hear something. I open my eyes and Ace has left the herd and is standing over me. I can feel his emotions as if he was speaking them to me. Pictures enter my mind that I'm certain were from him -- his way of trying to get something through to me. What I felt through those images was "Mom. It's OK. I know you're sad; I know you miss Sonny. I miss him too. But we are all OK. And it's OK you've been grieving and taking time. It's cool mom. I'm OK." He was persistent in showing me that he was indeed OK.
I pull out my next oil. Valor. I repeat the same process, but this time I start using affirmations. "I am good enough. I always do my best. I love my horses, and they love me." It was during this that Hank, our miniature and Sonny's best bud, came up to me. Quickly, pictures were coming into my mind again. What he seemed to want to show me was, "Hey, look, we all know you tried your best to help Sonny. But we also know he is at peace now, and not hurting anymore. You did good." Then as quickly as his emotions came at me, he moved on to go back grazing. It was an odd, but beautiful moment. Odd to me because Hank and I have never really been on the same wavelength before, and we haven't shared a deep connection like that.
The last oil I used was Hope. Breathing in deeply I started to envision Ace and I, regarding where I hope to be one day. I can see us loping through the field bareback. I can feel the joy and silliness as we play around in the arena. I see us exploring the fields around us without a care in the world, but enjoying each other's company. I feel the power of us running around barrels as a true team. Yet again, I'm projecting these thoughts and feelings out towards Ace. Again, he leaves the herd and comes up to me to nuzzle my hands. I get this picture in my mind, and I feel like he's trying to show me, "About time mom, I miss you."
I finally feel that longing to ride again. To feel that connection, that bond. To let my relationships with my horses help continue to heal my heart.
I know this story might sound made up, embellished, or way out there. But I'm a firm believer horses often want to show us how they feel. But our own minds get in the way. What happened today is something that I have never experience with such certainty. I am really trying to learn to be present in the moment, calm my mind, and to be receptive. I know these oils aren't magic, but in my experience they truly help me release emotions in such a powerful and positive way. It's my hope that in some small way, my story and experiences can help you develop a deeper connection with your own horse.
Want to chat? Have you ever experienced something like this? I'd love to hear. Shoot me a message or come check out my private community- click HERE
Curious for some tips on helping you and your horse become calm? I've got a simple three step process that will get you started. I think you'll really love it!
Check it out here
.